Organizing and optimizing inland shipping. It's that simple.
of the Western European fleet accessible
less time spend in operations
Get cargo from known relations or unknown companies
Freight offers from your current relations and new companies are available on the digital marketplace. 4shipping makes it easy to find a suitable freight offer, respond and close a deal.
4shipping is a completely independent and neutral platform. We offer the digital services that simplify your work, the operations are done by yourself.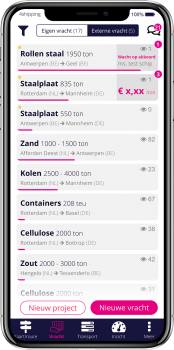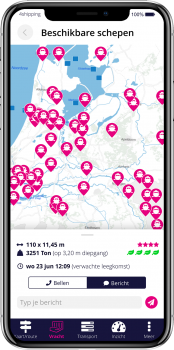 Arrange ships with capacity radar and marketplace
Arrange capacity by offering freight on the digital marketplace. Choose whether you offer the freight to all barges, a favorite group of barges or logistics service providers. Our platform generates notifications that are sent to the most suitable barges. This way you get the most suitable responses and you make the best deal.
Proactively searching for available barges can be done using the capacity radar. Approach relevant available barges with your transport needs. Do you also want to reach barges that have not submitted an availability report? That's possible! Offer your cargo on the marketplace and we make sure that the most suitable barges receive a notification.
Optimize operations with current and new relations
How do you keep an overview of the status, communication, documents, etc. of your transports? 4shipping makes it simple! Gain insight into the current status of your transports. Easily communicate with the parties involved via chat. Exchange documents digitally. And all of this can be found in one location easily, digitally and in a structured way. Automate by integrating with our API.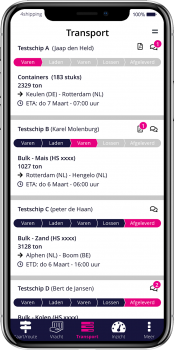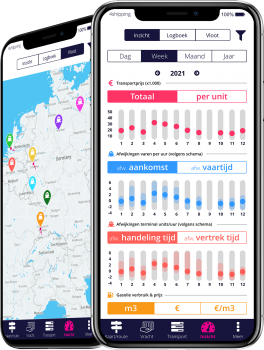 The very best insight. Always with you.
Real-time insight into your footprint and transport performance of both the fleet and the terminals. And most importantly: insight into your current and historical costs. Check directly whether fuel costs, water levels or congestion have an impact.
Gain new business at the digital marketplace. Work together with existing relations and new parties.
Easily find available barges
Arrange the most suitable barge easily via the capacity radar and the digital marketplace.
Efficient process and insight
Save considerable costs in transport operations. Take smart decisions using the performance insight to save additional costs.
Go
Tender freight offer among all skippers

Receive bids and close deal *
Pro
Tender freight offer among all skippers

Tender or plan freight offers among favorite groups or known relations

Receive bids and close deal

Performance dashboard for all your transports
Want to know more or start immediately?
Or call directly +31 (0) 8540 18 940