Insight into the performance of your port. Readily available.
increase of investment effectivity
higher satisfaction of port users
less time spend on operational port management
Insight leads to the best investment choices and effective port management.
Make the best decisions for port management using 4shipping. Not only strategically but also operationally.
4shipping gives you insight into the flow of goods in your port, the occupation of the berths and the CO2 footprint. With smart filters you can analyze per product type and barge type. These insights enable you to make smart strategic decisions.
4shipping gives you actual insight into the barge's visits and occupation in the port. This way, the port manager always has up-to-date insight in the pocket.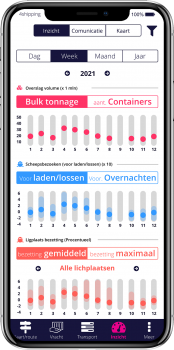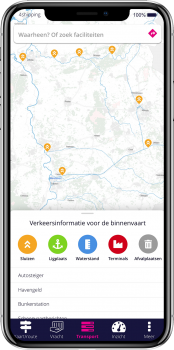 An attractive port starts with good information.
How do you make a port visit as easy as possible? By offering relevant information in a user-friendly way. Skippers, shippers and other port and waterway users find all relevant information in the 4shipping app. They view the facilities in the harbor. They consult contact information of the port authority, locks and terminals. In short, they experience a pleasant port visit by having clear information. In this way you contribute to modal shift and a better environment!
Port authorities make smart decisions by having actual and historical insight into the performance of the port.
Users experience a user-friendly and accessible port. In this way you contribute to modal shift and a better environment.
Save costs in operational port management through better streamlined use of the port and automation of the port fees collection process.
Want to know more or get started right away?
Or call directly +31 (0) 8540 18 940