Organizing and optimizing inland shipping. It's that simple.
less time spend in transport operations
reach of the Western European inland shipping fleet
reduction of (fuel) costs and CO2
Whether you work with a logistics service provider, your own fleet or spot market barges.
Many external factors influence the transport process. You connect with all those parties using the 4shipping platform. This simplifies planning and operations enormously. That's the only way to gain insight into the information from all your suppliers in a structured way. This way you keep an overview and you get optimal control over the process. An efficient transport process as it should look today.
Integrate easily with your own software via our API. In addition, we already have working integrations with various software packages and platforms.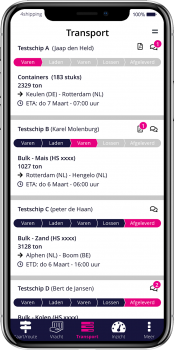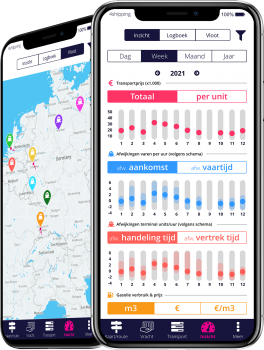 The very best insight. Always with you.
Real-time insight into your footprint and transport performance of both the fleet and the terminals. And most importantly: insight into your current and historical costs. Check directly whether fuel costs, water levels or congestion have an impact.
You've never seen so many available barges. And you reach them all.
If transport security is important to you, we offer you access to the Western European inland shipping fleet with a few clicks. The vast majority of logistics service providers and inland shipping entrepreneurs are connected. Make the best deal with a few clicks. This applies to ad-hoc capacity and tenders for longer periods.
Do you want more certainty that your transport will be transported? Consult the capacity radar and find available barges that suit your needs.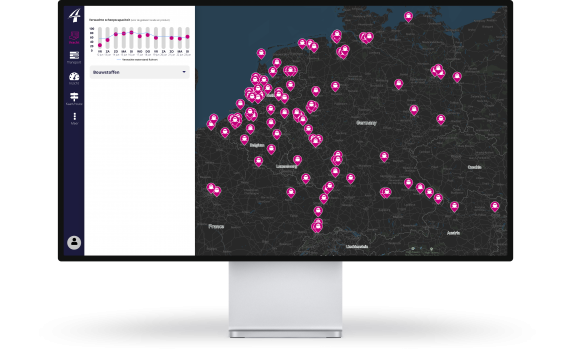 Save considerable costs in operational handling through a more efficient and better structured digital process.
Higher transport security
Achieve the best transport security by having access to almost the entire inland shipping fleet. By proactively finding and approaching the most suitable transport provider, we go a step further.
CO2 emission reduction starts with clear insight. Reduce emissions by combining this insight with savings advice.
Go
Tender freight offer among all skippers

Receive bids and close deal *
Pro
Tender freight offer among all skippers

Tender freight offers among favorite groups or known relations

Receive bids and close deal

Performance dashboard for all your transports
Curious about what this can mean for you?
Or call directly +31 (0) 8540 18 940